CONTACT US
Telephone:+86-371-66346399 +86-15638126963
Fax:+86-371-63486729
How to use Cold Vulcanizing cement SK313 to solve customer's problem
Cold vulcanizing cement sk313 is used for conveyor belt cold vulcanization. With distinguished splicing intensity exceeding German industry standard DIN and equal to the hot splicing intensity ,the sk313 plays an irreplaceable part in conveyor belt repair as well as cold seamless splicing .Its excellent properties far more exceed other similar products in the same industry over the world.
Application:
Fit for bonding between rubber and rubber, rubber and metal,rubber and fabric,fabric and fabric.It is an ideal bonding material for conveyor belt cold splicing and repair, pulley lagging &varieties of rubber liner materials.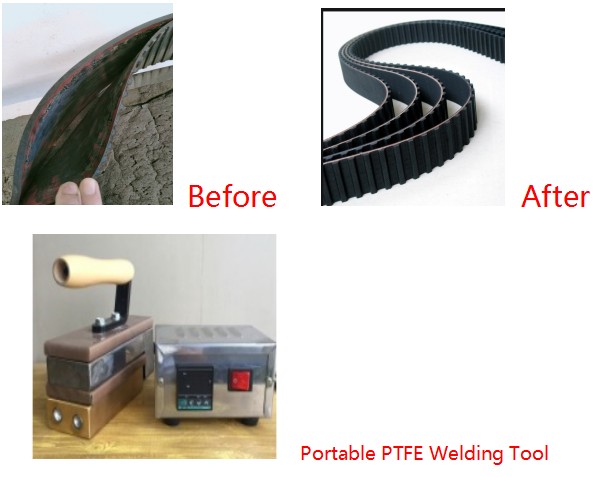 Our customer problem:
Question :
They stick black rubber(thickness6mm) with timing belt. After used it, it easy to peel off.​
​Solvement:
1) Use our cold Adhesive SK313 to stick the Belt and timing belt( the ratio of the adhesive is 4%)
2)After 30-60mins, use"Portable PTFE Welding Tool" on the all of black rubber,the temperature that should be setting and timing per one point is about 10°C----45°C.​